Who Can It Be Now?
Ellis Clarence Valentine was born in Helena, Arkansas, in 1954, and graduated high school from Crenshaw High School in Los Angeles -- a school which produced Darryl Strawberry, Akbar and Kabeer Gbaja-Biamila, Ice-T, Milwaukee Bucks legend Marques Johnson, and UConn basketball coach Kevin Ollie, among others.
Valentine was the first of those guys from Crenshaw to make a name for himself, which makes sense since the school did not open until 1968.
Noted journalist Jeff Pearlman -- in the news again recently for the fifteenth anniversary of his writing that John Rocker interview in Sports Illustrated -- interviewed Valentine on his website. Valentine came from a good family. His dad worked for the City of Los Angeles as a trash man, and his mother had her own beauty salon. Valentine himself admitted in his interview with Pearlman that he, "took a lot of things for granted, growing up. And a lot of it didn't come to a head until it all came crashing down after my career was over."
Valentine was chosen by Montreal
in the June 1972 draft
in the
second round
with the 29th pick overall. Guys drafted before him in the first round included Chet Lemon, Scott McGregor, Dick Ruthven, and Rick Manning, among others. Valentine made it to the major leagues for the first time in 1975 at the age of 21 for a cup of coffee, then spent half a season at AAA in 1976 before making it to the majors for good with the Expos in 1976.
In the seasons in which he turned 23 and 24 -- 1977 and 1978 -- Valentine put up back-to-back seasons of 25 HR, 76 RBI, and 13 SB. In 1977, he made the All-Star team for the one time in his career. In 1978, he won a Gold Glove -- likely based in many respects on his incredible, NL-leading 25 baserunner kills (because, after all, he still committed 10 errors that year).
Things were going well for Valentine until 1980. On May 30, 1980, on a Friday night in Busch Stadium in St. Louis, Valentine came to bat in the top of the sixth inning against reliever Roy Thomas. Thomas had come on in relief of Jim Kaat, who had been hammered by the Expos to the tune of 6 runs in 4 innings. With two outs and no one on base, a fastball rode up and in on Valentine and broke his cheekbone in six places.
When he came back, he needed to protect his jaw and cheek from further damage. He began wearing part of a football facemask to protect himself. His 1981 Topps card is proof:
Frankly, after the injury, Valentine was not the same player, and he said exactly that in his Pearlman interview: "I wasn't the same hitter any longer. I wasn't the same athlete any longer. I'd become a different person because of it. I prayed over it, and I realized getting hit in the jaw wasn't fun. From a guy who throws the ball over 90-plus miles per hour."
In May of 1981, Valentine was traded to the Mets for Jeff Reardon and Dan Norman. He wasn't hitting well, and he was going to the plate and hacking like crazy. I mean, when a guy walks 11 times in 261 plate appearances, that's hack-tastic. 1982 was worse -- 5 walks in 350 plate appearances. He had more sacrifice flies -- 7 -- and grounded into more double plays -- 11 -- than he did walks. At age 28, he was nearly washed up rather than reaching his peak.
Valentine signed with the Angels for the 1983 season and played a part-time role with them. He didn't play anywhere except for one game in AAA in 1984, and then hooked on with the Rangers for a year. At age 31, he was done with baseball.
Pass the Dutchie
Valentine's life -- both in baseball and, more importantly, after baseball -- has been marked by his relationship with drugs and drug abuse. In that excellent interview with Jeff Pearlman, Valentine said that his worst years for drugs were actually the years in the late 1970s -- his best years in baseball:
But mostly the later part of my years in Montreal, that's when it was really becoming a problem. I'd always dabbled around with a few things in high school, like most other kids. That was the era--we'd smoke a little pot, drink a little wine, play a little rock and roll. But when I got to Montreal things grew. They escalated. I made more money, and you do more things, blah, blah. It got a little out of control. The year my injury happened in 1980--that was the season I really started to intervene on that.
It's a good thing that he did, because for the past 25 years, he has worked in substance abuse counseling and behavioral intervention. My final quote from the Pearlman interview sums this up:
I've had two real jobs in my life. I've been a baseball player and I've been a counselor. I love this. I have more joy from this, because when you're involved with another person and you help another person change his life, it's just something to it. I could hit home runs. That was fine. That was for me, and for the team, and that whole stuff. But I really didn't even know how to be a teammate at the time. I was just a kid.
Freeze-Frame
Ellis Valentine appeared in a 1978 episode of Fantasy Island called "Superstar/Salem" with George Brett, Ken Brett, Steve Garvey, Tommy Lasorda, and Fred Lynn -- and, also, Gary Burghoff (Radar O'Reilly on M*A*S*H) and Leslie Nielsen. Here's a non-speaking clip for Ellis:
And a speaking clip:
A Few Minutes with Tony L.
In searching for material for this post, I can honestly say that this is the first time that I have had far too much material to use or incorporate into the article. I mean, for Gary Alexander, we had to resort to a Facebook page to see that he likes taking cruises and is a firefighter.
For Valentine, though, there are a ton of resources. There is that in-depth interview with Jeff Pearlman I referenced many times above. Of these first players, though, Valentine is the first to have embraced fully the social media age in which we live:
He has also been very active and in the news recently because of Jonah Keri's new book about the Montreal Expos called Up, Up, and Away. He appeared in Montreal for the book's release. In doing that, he recreated photos that were taken in the 1970s in Montreal: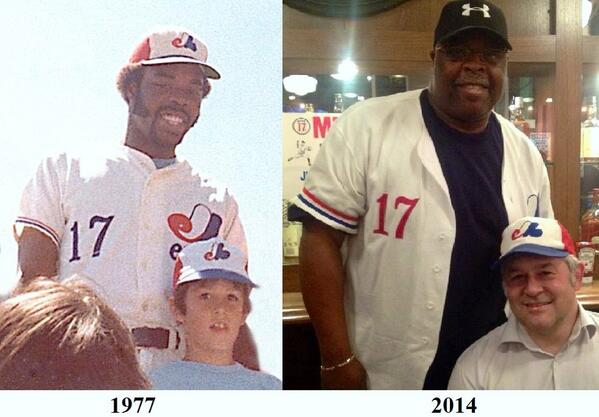 Valentine even got a special gift back from the man whose father housed Valentine in the 197os -- the bat that Valentine used to hit the first ever home run in Olympic Stadium. That story contains the interesting trivia that Valentine not only hit the first Olympic Stadium homer, but he also hit the last homer in the Expos former home, Jarry Park.
Like I said, there was a lot of material.
Ellis Valentine is a guy who was a pretty big star for a little while about whom people inevitably ask the "What if" questions -- what if he didn't get hit in the cheek? What if he didn't become addicted to cocaine? What if his legs weren't destroyed by the Olympic Stadium AstroTurf?
The answer to those questions very well might have been that we as humans would have lost out on getting the best that Ellis Valentine had to offer. Because, in the end, he's done a lot more for society since baseball than he likely would have done had baseball continued being his profession.
Thank you, Mr. Valentine, for turning your negatives into positives for those who need the help.