Who Can It Be Now?
John Goody Urrea was born in Los Angeles, California, on February 9, 1955. He went to Rio Hondo College, a junior college in Whittier, California, and it was from there that he was selected in the first round of the 1974 January Draft with the 14th overall pick by the Cardinals.
He signed with the Cardinals, and appeared in 6 games in the Gulf Coast League (a rookie league) before moving up to St. Petersburg in the Florida State League in 1974 for one game.
As an article in
The Evening Independent
(St. Petersburg) written during his next far more extended trip to St. Petersburg in 1975 mentions, Urrea's 1974 season was cut short by a pulled muscle in his throwing arm. Playing on the same Single-A team in 1975 with Urrea were future big leaguers Tito Landrum and Garry Templeton -- who was called up mid-season and replaced on the roster by future Phillies Manager Nick Leyva.
Urrea had an excellent 1975 season in the Florida State League -- though, in fairness, it was a league that favored pitchers -- so he moved up to the Texas League in 1976 and pitched pretty well there. He was getting hit by batters with regularity, to be fair -- 10 hits per nine innings -- but his 11-8 record convinced the Cardinals to give him a shot in spring training in 1977.
The 1977 season for Urrea was a fairy tale of sorts. He pitched well -- a 3.16 ERA, 8.1 hits per 9 innings, and a K/BB ratio of 2.31 all speak to that. He saved 4 games. In fact, his first three appearances were saves, including the third game of the 1977 season against the Pirates. After that game, then-Cardinals manager Vern Rapp said, "I don't want to be too predictable. Eventually, we have to prove to other teams that there is more to our bullpen than just [Al] Hrabosky. . . . I'm not discrediting Hrabosky, either, but one man can't do the work all season. You've got to establish your other relievers." Quite a stark change to today's bullpen construction where everyone knows who everyone else's "closer" is, certainly.
Later in the season, Urrea was moved to the starting rotation where he started twelve games and completed two of them, including a
3-0 shutout of the Atlanta Braves
in July. Indeed, his first five decisions as a starter were wins as well. All the usual happy stories started appearing in newspapers -- a headline in the
Southeast Missourian
over an AP story, for example, sang, "
Success fails to spoil John Urrea
."
Urrea's career went south after his initial success. He slumped to a 5.38 ERA in 1978 -- even though his FIP was pretty much the same as his previous season. The real problem he had was that his walk rate shot up after that first year in the majors, going from 2.3 BB/9 in 1977 to 4.3 BB/9 in 1978 and, from there, never lower than 5.1 BB/9. This control issue caused his K/BB ratio to fall as well -- going to 1.3 K/BB in 1977 and, thereafter, never reaching 1.0 again.
So, at the end of July, the Cardinals sent Urrea down to Triple-A Springfield and called up Aurelio Lopez to replace him.
He got a cup of coffee in 1979, appearing in three late season games, and then was called up at the end of June in 1980. He stayed in the majors for the rest of that year.
Whitey Herzog had become the field manager and general manager at the start of the 1980 season, and he began shaping the team in the image he wanted it to have. Urrea was to be a part of that shaping, but as one of the guys exiting St. Louis. As it was, a
t the winter meetings in December of 1980, Urrea was involved in one of the most incredible flurries of trades of at least the early 1980s. On December 8, 1980, he was shipped to the San Diego Padres with Terry Kennedy, John Littlefield, Al Olmstead, Mike Phillips, Kim Seaman, and Steve Swisher in exchange for Rollie Fingers, Bob Shirley, Gene Tenace, and Bob Geren. The very next day, Herzog traded Leon Durham, Ken Reitz, and Ty Waller to the Cubs for Bruce Sutter. Not wanting to have two closers, apparently, Herzog took three days to find a trading partner for Fingers, sending Fingers, Pete Vuckovich, and Ted Simmons to the Milwaukee Brewers for David Green, Dave LaPoint, Sixto Lezcano, and Lary Sorensen.
The Padres were in full-on salary cutting/rebuilding mode; a review of their transactions from 1980 shows a team selling players, trading veterans, and releasing players left and right. Urrea came to the Padres in this atmosphere at the age of 26 and pitched creditably, though he walked 1.6 batters per nine innings more than he struck out. After that performance, the Padres released Urrea, and he never pitched in the major leagues again.
Nanu Nanu
This card is John Urrea's last appearance on a Topps baseball card and, as I mentioned above, Urrea did not pitch in 1982 or thereafter in the Majors.
What happened to him? Well, he pitched for both Veracruz and Poza Rica in the Mexican League in 1982. Baseball-Reference loses him for a couple of years before Urrea resurfaces with the Mexico City Tigers in 1986 at the age of 31.
After that, it appears that he moved back home to the Los Angeles area -- Cerritos -- where I believe he still lives today.
A Few Minutes with Tony L.
Urrea was a guy whose card I would look at in 1982, 1992, 2002, or 2012 and say, "I must have 12 of this one." He did not make an impression on me, though I definitely have his 1979 Topps card photo ingrained in my head for some reason.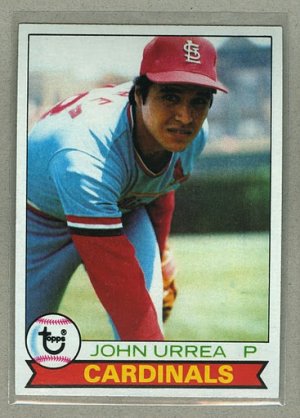 One interesting to me issue that came up while trying to find something about Urrea that I could write about was the Pittsburgh Post-Gazette article from which I took Vern Rapp's quotes about his bullpen use. That same news story provides a throwback to the days 37 years ago -- or, for that matter, about 15 years ago -- when it seemed that sportswriters would or could only compare athletes to other athletes of a similar ethnic background.
You may not realize it by his name, but Urrea is definitely a Mexican-American. In fact, the name Urrea is famous from the Texas Revolution, as General Jose de Urrea was one of Santa Anna's top generals. Under Urrea, Mexican forces never lost a battle.
That said, however, John Urrea is as American as any other person born in the US -- whether it was to immigrant parents or otherwise. Yet, the Post-Gazette from 1977 first compares Urrea to golfer Lee Trevino, saying that Urrea bore a "slight resemblance" to Trevino. Here's Trevino from about that time:
I guess that slight resemblance is that he had dark hair and dark eyes? Now, in fairness to the 37-years-ago beat writer, perhaps Urrea looked more like Trevino then than he did five years later on the 1982 Topps card. But when Urrea was first introduced in the story, he was described as "the Merry Mexican who last year pitched Class AA ball for the Cards' Arkansas farmclub in the Tecas [sic] League . . . ." Urrea is then described as having "eyes that sparkle and dance with similar merriment [to Trevino's eyes]."
I'm not a politically correct person by any stretch of the imagination, but seeing a story written in that way today is a jarring reminder of how far we have come in how we view people. I am glad that we have progressed at least somewhat.